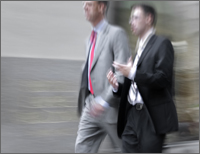 "Fantastic class. Definite eye opener."
Adam Tamas,
Attorney, DST Systems
"Another excellent seminar from The Likeable Lawyer. The concepts learned are as important—no, more important—than the latest legislative or appellate update. Very useful and enlightening."
James Johnson,
Lommen, Abdo, Cole, King & Stageberg
"Deceptively good. Better than I anticipated."
Blair Parker,
Parker and Edwards
"Best CLE I've had. The technology was top notch and the presenter was like talking to a friend or co-worker. This will help me to deal better with my clients in the future."
Jeremy Hays,
Attorney, Myler Disability
"Very interesting content that made me think about the PROCESS of negotiation in aways I hadn't before. Essential for all attorneys."
Leah W. Sprague,
Attorney