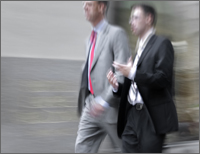 "Likeable Lawyer programs help lawyers lead more fulfilled careers and would benefit every lawyer. The Aristotelian principles covered will help me become a more valuable and influential lawyer. "
John Hammond,
Ice Miller, LLP
"Deceptively good. Better than I anticipated."
Blair Parker,
Parker and Edwards
"The class had a lot of practical application and was valuable in that it gave practical pointers about how to best serve our clients. Implementation of this advice would better the reputation of lawyers as a profession. "
Tasha Pepper Dickinson,
Jones, Foster, Johnston & Stubbs
"Excellent balance of applicable knowledge with real world examples. A fun way to satisfy CLE requirements from my desktop. The instructor was prepared and easy to follow."
James Hall,
Hall Johnson LLC
"Engaging and articulate facilitator, clear and well organized presentation, great content. "
James Ficaro,
The Weiser Law Firm