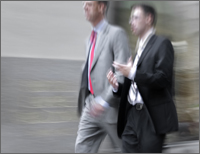 "An excellent course for understanding the "customer service" aspect of representing clients--it is not all about case citations, pure knowledge, or experience. It is about earning client trust first and foremost. Highly recommended. "
Jim Franklin,
Schroeder & Griffith
"One of the best MCLE classes I've ever taken because it has such broad application. It's not just for interacting with clients but with all human beings, and we could all use a primer or refresher on that! As I sat in class I thought to myself: This should be taught in law school. "
Kristin Matsuda,
Attorney
"The most interesting and useful MCLE courses I have ever taken in my 20+ years of taking courses."
Jeremy Katz,
Pinnacle Law Group
"Brian provides excellent psychological examples for why his techniques work in practice. With plenty of years experience negotiating complex transactions and dealing with all kinds of clients, I still learned a good deal about why certain techniques work better than others."
John Lamberski,
Mercer Thompson LLC
"This was one of the best seminars I have participated in. The information was useful, practical, insightful and empowering. It was definitely more than I had anticipated or expected."
Therese Picard,
Daley & Orton