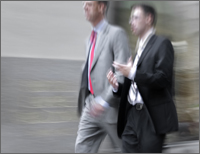 "The best, most concise and meat-filled client development presentation for lawyers I've been to in my 30 years as a lawyer!"
Sandra Carr,
Attorney
"One of the best classes I have attended. It was very thought-provoking with real-world scenarios and important human/emotional insights which will be useful in dealing with clients."
Henry Koltys,
Mediation for Resolution
"Fantastic, helpful and insightful ... different from any previous CLE class I have taken."
Michael Schwartz,
Attorney
"I thought it would be another dry ethics and professionalism course, but it was the most exciting and practical course I have attended."
Richard Crollett,
New Mexico Workers' Compensation Administration
"Very interesting and informative CLE. One of the best that I have participated in."
Chris Bergeman,
Righi Law Group