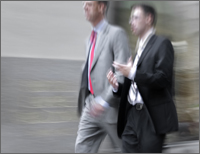 "One of the best MCLE classes I've ever taken because it has such broad application. It's not just for interacting with clients but with all human beings, and we could all use a primer or refresher on that! As I sat in class I thought to myself: This should be taught in law school. "
Kristin Matsuda,
Attorney
"The class had a lot of practical content and challenged me in concrete and believable ways."
John Shenk,
Ervin, Cohen and Jessup
"Best CLE I've had. The technology was top notch and the presenter was like talking to a friend or co-worker. This will help me to deal better with my clients in the future."
Jeremy Hays,
Attorney, Myler Disability
"The course was excellent, insightful and lent itself to immediate application."
Tracee Lewis,
Baker Botts
"I was truly impressed and surprised. This was by far one of the most beneficial, practical, engaging and enjoyable CLE seminars I have experienced. I will definitely be a repeat student."
Rochelle McCrackin,
Attorney