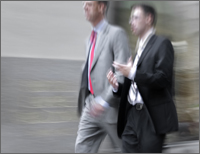 "This is my third or fourth course with the Likeable Lawyer. Just like with my previous experiences, this course caused me to think about an aspect of representing real people - being aware of my clients' expectations that is often forgotten, taken for granted, or assumed to be handled. Thank you for giving me new skills to help me meet and exceed client expectations. "
Lucia McLaren,
Johnson Becker
"I was surprised by how interesting and different this class was from typical CLE courses. It was a lot more intellectual and captivating than most."
Amber Kauffman,
Sessoms & Rogers
"As with the other courses that I have taken with this CLE provider, I found the information contained in this course to be exceedingly relevant in my current practice areas."
Corey Thompson,
Attorney
"The Likeable Lawyer was, without a doubt, the best CLE class I have ever taken. Thank you!"
David Warner,
Casa del Hispano
"A fun and engaging discussion that was very relevant and way better than most CLEs."
Mark Asbill,
Wells Fargo Legel Department