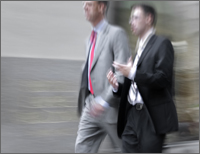 "The most interesting and useful MCLE courses I have ever taken in my 20+ years of taking courses."
Jeremy Katz,
Pinnacle Law Group
"These were two of the best CLE courses I have taken: the advice given was practical and useable."
Pete Giamporcaro,
Reed Smith
"The content was excellent; different than any other CLE class I have taken and better. It provided extremely helpful training and actionable information that I can actually use in law, business and my personal life."
Robert Alexander Glenn,
Duke Energy
"This was the most valuable CLE course I've ever attended, focusing on the core of our profession—service for our clients."
Maggie Doyle,
Hensel Phelps Construction Co.
"The class had a lot of practical application and was valuable in that it gave practical pointers about how to best serve our clients. Implementation of this advice would better the reputation of lawyers as a profession. "
Tasha Pepper Dickinson,
Jones, Foster, Johnston & Stubbs