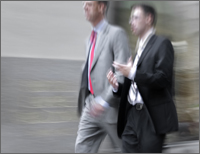 "This was the most valuable CLE course I've ever attended, focusing on the core of our profession—service for our clients."
Maggie Doyle,
Hensel Phelps Construction Co.
"The class had a lot of practical content and challenged me in concrete and believable ways."
John Shenk,
Ervin, Cohen and Jessup
"This course provides vital techniques for success in the practice of law. I have attended other seminars on these topics, and this was the best."
Karen Douglas,
Corning Incorporated
"One of the best classes I have attended. It was very thought-provoking with real-world scenarios and important human/emotional insights which will be useful in dealing with clients."
Henry Koltys,
Mediation for Resolution
"Excellent program with helpful insights for improving interactions with clients, co-workers and opposing counsel."
Ken Hoffmeister,
Merchant & Gould