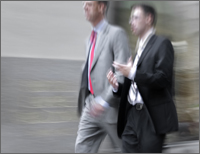 "Extremely practical how-to course filled with useful negotiation tools. Provides insight into diagnosing the needs of your negotiation opponent that will allow you to increase the chances of obtaining successful outcomes."
Shawn Doorhy,
Faegre Baker Daniels LLP
"I was pleasantly surprised with the depth or probing of human motivations and the promotion of seeking win-win resolutions, a trait that I find sorely missing in the profession."
Mark Baker,
Attorney
"Easily the most interesting CLE I've had in years. I recommend it to anyone in any law field."
David Hanson,
Manley Deas Kochaiski
"Excellent and extremely eye opening. This really is worthwhile!"
Doug Grinnell,
Epsten Grinnell & Howell
"One of the best classes I have attended. It was very thought-provoking with real-world scenarios and important human/emotional insights which will be useful in dealing with clients."
Henry Koltys,
Mediation for Resolution