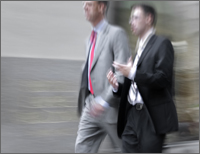 "My experience with client development was limited before this course, though now (as a result of this program) I feel much more prepared to make rain and develop my own book of business."
Eric Ballou,
The Nelson Law Firm
"Very informative and effective seminar! One of my favorites!"
Mary Ellen Spiece,
Wilkes & McHugh
"Great material presented in an easy, straight-forward manner to enhance professional relationships with clients, staff and colleagues."
Robert Piacente,
Fagen, Friedman & Fulprost
"You will negotiate better after taking this course. I liked the seamless relation of Aristotelian principles to the neuroscience of what gets people to agree."
Marie Jordan,
Attorney, JP Morgan Chase
"If I were king of the world, courses like this would be mandatory. This course will help to make me not just a better lawyer, but a more effective communicator with family, friends and others."
Eric Rathburn,
Attorney