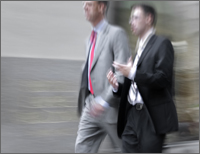 "The best, most concise and meat-filled client development presentation for lawyers I've been to in my 30 years as a lawyer!"
Sandra Carr,
Attorney
"Deceptively good. Better than I anticipated."
Blair Parker,
Parker and Edwards
"Excellent balance of applicable knowledge with real world examples. A fun way to satisfy CLE requirements from my desktop. The instructor was prepared and easy to follow."
James Hall,
Hall Johnson LLC
"I thought it would be another dry ethics and professionalism course, but it was the most exciting and practical course I have attended."
Richard Crollett,
New Mexico Workers' Compensation Administration
"The most interesting and useful MCLE courses I have ever taken in my 20+ years of taking courses."
Jeremy Katz,
Pinnacle Law Group