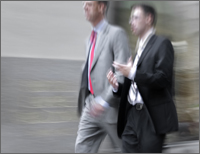 "Indispensable knowledge rarely taught anywhere in the legal profession. "
Erika Diaz,
Los Angeles Center for Law and Justice
"Excellent course. Got me to focus more on alternate ways to meet client needs and is useful on more levels than you can imagine."
Michael J. Kiselica,
Attorney
"The course content and concepts were absolutely excellent! I cannot think of a more helpful course for any lawyer to take. I have practiced law for 38 years and have never attended a course that had more practical, concrete and excellent information for lawyers."
Nina Preston,
Attorney, Arizona Supreme Court
"Excellent course. I enjoyed the wide scope of the presentation and the unusual variety of useful information."
Carl Forest,
Patton Boggs
"The class was a very good reminder of what makes people tick, how to more easily persuade them, and how to be a "likeable lawyer" for those of us for whom that is important."
Ned Menoyo,
Quinn Emanuel Urquhart & Sullivan