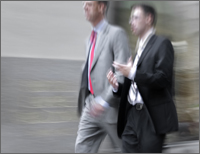 "Excellent examination of the solutions for client satisfaction that are often over-looked during representation."
Ryan Thompson,
Godin & Baity
"One of the best ethics seminars I have seen in a long time. The examples and scenarios effectively illustrated the points made. Exceeded my expectations. "
Kate Patterson,
Patterson Ehrhardt, PLLC
"Exceeded my expectations! Best ethics-related course I've ever taken."
Solomon Hunter,
Pepper Hamilton
"This course offers very practical and easily implemented tools to improve your influence with others and the quality of your legal practice."
Darrin Jeffries,
Plattner, Schneidman & Schneider
"Thoughtful presentation and content. High value."
Randolph Ruff,
Ogletree Deakins