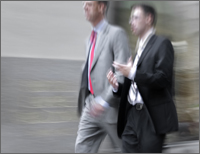 "The Likeable Lawyer was, without a doubt, the best CLE class I have ever taken. Thank you!"
David Warner,
Casa del Hispano
"I was pleasantly surprised with the depth or probing of human motivations and the promotion of seeking win-win resolutions, a trait that I find sorely missing in the profession."
Mark Baker,
Attorney
"Exceeded my expectations with practical tools on the little things that can dramatically improve communication with clients, counsel and colleagues."
Joseph Green,
Baker, Donelson, Bearman, Caldwell & Berkowitz
"The class had a lot of practical application and was valuable in that it gave practical pointers about how to best serve our clients. Implementation of this advice would better the reputation of lawyers as a profession. "
Tasha Pepper Dickinson,
Jones, Foster, Johnston & Stubbs
"This course is an eye and ear opener. Common pitfalls with clients will be easier to spot and more easily remedied after taking this seminar."
Alexis Johnson,
Attorney