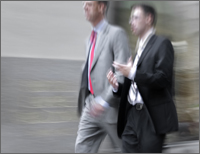 "This is one of the most informative and engaging CLE classes I've taken. I wish I had taken it years ago."
James E. Fearn,
Seattle Housing Authority
"Very interesting CLE. Extremely relevant, broadly applicable, and great concepts that will change my daily interactions with clients and others."
Jane Huang,
Hogan Lovells
"I was pleasantly surprised with the depth or probing of human motivations and the promotion of seeking win-win resolutions, a trait that I find sorely missing in the profession."
Mark Baker,
Attorney
"The program content is suited well for lawyers no matter what area of practice. Both in handling client relationships and adversary relationships with other lawyers. It is a good value. "
James P. Burnett,
Lutz, Burnett, McDermott, Jahn & King
"The course was excellent, insightful and lent itself to immediate application."
Tracee Lewis,
Baker Botts