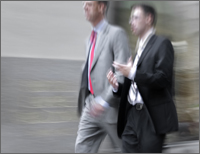 "Excellent course. Surprisingly relevant to all aspects of my practice and my life."
Tracy Forsythe,
Attorney
"One of the best—and certainly the most practical—seminars I have taken on negotiation."
Paige Williams,
FedEx Corp. Legal Dept.
"This class provided tools for dealing with conflict arising from difficult personalities and will help me better navigate such situations and achieve better results for my clients."
David Powers,
Rose Harrison & Gilreath
"Indispensable knowledge rarely taught anywhere in the legal profession. "
Erika Diaz,
Los Angeles Center for Law and Justice
"This course is an eye and ear opener. Common pitfalls with clients will be easier to spot and more easily remedied after taking this seminar."
Alexis Johnson,
Attorney