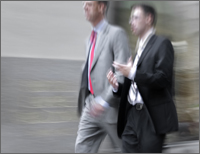 "I was thrilled to find CLE courses that actually focused on the human dimensions of legal competence. The courses I took did not disappoint and were full of both theoretical and practical nuggets I have not seen in any other CLE courses."
Jane Ruddell,
Attorney, Health Care Resolutions
"Excellent aid in a high-stress environment. Very interesting and helpful. More importantly, it kept my attention. This guy offers quite a few insights that you might not ever think of."
David G. Utley,
Davis & Young
"A fun and engaging discussion that was very relevant and way better than most CLEs."
Mark Asbill,
Wells Fargo Legel Department
"This course is an eye and ear opener. Common pitfalls with clients will be easier to spot and more easily remedied after taking this seminar."
Alexis Johnson,
Attorney
"The course taught practical guidance and helpful reminders on effective lawyering, and did so in a surprisingly interesting and motivational way."
Lynne Lagarde,
Earl, Curley & Lagarde