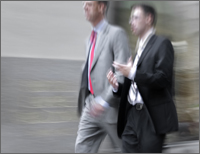 "Excellent examination of the solutions for client satisfaction that are often over-looked during representation."
Ryan Thompson,
Godin & Baity
"Classes like this -- on human interactions -- are as valuable as any substantive CLE we might take. Interacting with people is fundamental to what we do. The legal profession needs more of this type of teaching. The program is very well curated, and Brian does an excellent job."
Michael Hamilton,
DLA Piper LLP
"This course offers very practical and easily implemented tools to improve your influence with others and the quality of your legal practice."
Darrin Jeffries,
Plattner, Schneidman & Schneider
"I love Likeable Lawyer courses. They have been the most practical CLE I have ever taken."
Thomas Brinsko,
Attorney, BIC Alliance
"Deceptively good. Better than I anticipated."
Blair Parker,
Parker and Edwards