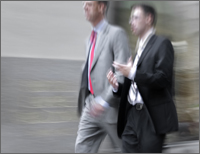 "It is hard to come up with something fresh in a negotiation course. This one offers several gems."
J. Stanton Curry,
Gallagher & Kennedy
"I love your seminars! Best CLE there is! I have been attending CLE since it was first required in Pennsylvania which was many, many years ago. Yours are, without question, the most enjoyable and informative."
Virginia Lederman ,
Associate University Counsel, Temple University
"One of the best—and certainly the most practical—seminars I have taken on negotiation."
Paige Williams,
FedEx Corp. Legal Dept.
"Fantastic class. Definite eye opener."
Adam Tamas,
Attorney, DST Systems
"I found the seminar to provide very useful insights into people's perceptions of each other and important ideas about how to communicate more clearly and effectively. I would recommend the course to anyone."
Angus King ,
Former Governor of Maine