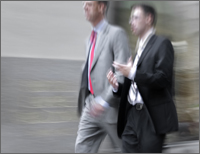 "Excellent course. Surprisingly relevant to all aspects of my practice and my life."
Tracy Forsythe,
Attorney
"This class addresses issues rarely mentioned but critical to success in practicing law."
Stephen Sutton,
Lathrop & Gage
"Indispensable knowledge rarely taught anywhere in the legal profession. "
Erika Diaz,
Los Angeles Center for Law and Justice
"Very informative, entertaining, and useful for attorneys in all practice areas, not just litigators."
Allison Turnbull,
Baker Hostetler
"This program is terrific, the content outstanding. It provided step-by-step advice about how to create a more successful and rewarding law practice."
Elizabeth Thompson,
Jones Bothwell Dion & Thompson