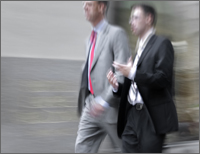 "I love your seminars! Best CLE there is! I have been attending CLE since it was first required in Pennsylvania which was many, many years ago. Yours are, without question, the most enjoyable and informative."
Virginia Lederman ,
Associate University Counsel, Temple University
"This course demonstrates the importance of pathos in persuasion with realistic examples of how communication and negotiation can go awry, and how it can be righted."
Christine Dehney,
Attorney
"The value of this class is extremely high."
Kenneth A. Miller III,
Miller Law Offices PLLC
"As a college professor, I am keenly aware that it is just as important in the delivery of information as it is in the content of that which is being delivered. I am pleased to say that The Likeable Lawyer was successful in creating a confluence where the two met with remarkable results."
Sherman Anderson,
Attorney
"Classes like this -- on human interactions -- are as valuable as any substantive CLE we might take. Interacting with people is fundamental to what we do. The legal profession needs more of this type of teaching. The program is very well curated, and Brian does an excellent job."
Michael Hamilton,
DLA Piper LLP