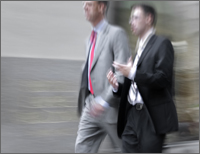 "Very interesting content that made me think about the PROCESS of negotiation in aways I hadn't before. Essential for all attorneys."
Leah W. Sprague,
Attorney
"Classes like this -- on human interactions -- are as valuable as any substantive CLE we might take. Interacting with people is fundamental to what we do. The legal profession needs more of this type of teaching. The program is very well curated, and Brian does an excellent job."
Michael Hamilton,
DLA Piper LLP
"This is one of the most informative and engaging CLE classes I've taken. I wish I had taken it years ago."
James E. Fearn,
Seattle Housing Authority
"The class content exceeded my expectations and was very helpful (more helpful than most CLEs)."
Sean Ambrose,
Attorney
"Content was excellent. I had never taken a webinar class but thought it worked very well."
Holly Wheeler,
U.S. Dept. of the Interior, Office of the Solicitor