Login
Has your e-mail address changed?
If you've forgotten your password and no longer use the e-mail address associated with your LikeableLawyer.com account, you may choose from the following:
1) Log in (above) and change your email address. (Forgot your password?)
OR:
2) Create a new LikeableLawyer.com account:
Enter your email address above and press Create account
OR:
3) Call us and a representative will be happy to make a change for you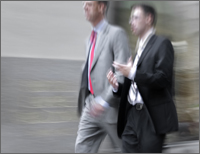 "Useful for all lawyers, newly practicing or established."
Alice Carmichael Richey,
Parker Poe Adams & Bernstein
"Very eye-opening and informative!"
Christina Hanna,
Sheppard Mullin
"This class provided tools for dealing with conflict arising from difficult personalities and will help me better navigate such situations and achieve better results for my clients."
David Powers,
Rose Harrison & Gilreath
"I thought it would be another dry ethics and professionalism course, but it was the most exciting and practical course I have attended."
Richard Crollett,
New Mexico Workers' Compensation Administration
"Indispensable knowledge rarely taught anywhere in the legal profession. "
Erika Diaz,
Los Angeles Center for Law and Justice