Login
Has your e-mail address changed?
If you've forgotten your password and no longer use the e-mail address associated with your LikeableLawyer.com account, you may choose from the following:
1) Log in (above) and change your email address. (Forgot your password?)
OR:
2) Create a new LikeableLawyer.com account:
Enter your email address above and press Create account
OR:
3) Call us and a representative will be happy to make a change for you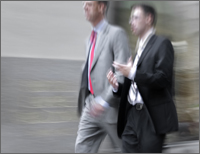 "Exceeded my expectations. Excellent in all respects."
Michael Vary,
Jones Day
"The course taught practical guidance and helpful reminders on effective lawyering, and did so in a surprisingly interesting and motivational way."
Lynne Lagarde,
Earl, Curley & Lagarde
"This course was filled with concrete examples, and teaches important fundamentals for improving lawyer and client relationships."
Michael Russ,
King and Spalding
"I was surprised by how interesting and different this class was from typical CLE courses. It was a lot more intellectual and captivating than most."
Amber Kauffman,
Sessoms & Rogers
"Great seminar—outstanding presenter!"
Ian Bradford,
Attorney, Fisher-Price