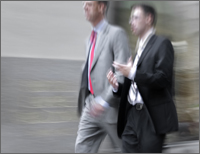 "Excellent aid in a high-stress environment. Very interesting and helpful. More importantly, it kept my attention. This guy offers quite a few insights that you might not ever think of."
David G. Utley,
Davis & Young
"This course is an eye and ear opener. Common pitfalls with clients will be easier to spot and more easily remedied after taking this seminar."
Alexis Johnson,
Attorney
"Excellent course. I enjoyed the wide scope of the presentation and the unusual variety of useful information."
Carl Forest,
Patton Boggs
"Provides a helpful framework for understanding other interested parties in order to improve resolution of legal disputes, negotiations and interactions."
Christopher Kennedy,
Baker Botts
"This course gives lawyers tools to better balance life and work."
Mark Glasser,
King & Spalding