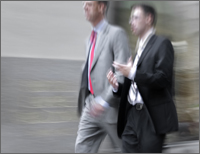 "The Trusted Lawyer is easily the best CLE investment I made all year. "
Joseph F. Capello,
Stathopulos & Associates
"Excellent course with clear, engaging explanation of concepts and practical examples of application. "
Nan Braley,
Greenberg Traurig
"Deceptively good. Better than I anticipated."
Blair Parker,
Parker and Edwards
"The class had a lot of practical application and was valuable in that it gave practical pointers about how to best serve our clients. Implementation of this advice would better the reputation of lawyers as a profession. "
Tasha Pepper Dickinson,
Jones, Foster, Johnston & Stubbs
"I thought it would be another dry ethics and professionalism course, but it was the most exciting and practical course I have attended."
Richard Crollett,
New Mexico Workers' Compensation Administration