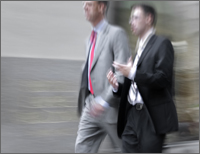 "A very interesting, insightful presentation. The seminar flew by."
Dan Pinkston,
U.S. Department of Justice
"Insightful, engaging and provocative. Brian is very knowledgable and an excellent speaker."
Claire Miller,
Alcoa
"The course is invaluable. I came wanting to learn how to be a better lawyer and left learning how to be a better person."
Amy Miller,
Waldrep Stewart & Kendrick
"Classes like this -- on human interactions -- are as valuable as any substantive CLE we might take. Interacting with people is fundamental to what we do. The legal profession needs more of this type of teaching. The program is very well curated, and Brian does an excellent job."
Michael Hamilton,
DLA Piper LLP
"Very informative and effective seminar! One of my favorites!"
Mary Ellen Spiece,
Wilkes & McHugh