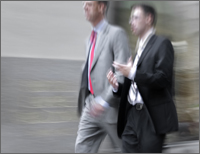 "This course offers very practical and easily implemented tools to improve your influence with others and the quality of your legal practice."
Darrin Jeffries,
Plattner, Schneidman & Schneider
"The course content and concepts were absolutely excellent! I cannot think of a more helpful course for any lawyer to take. I have practiced law for 38 years and have never attended a course that had more practical, concrete and excellent information for lawyers."
Nina Preston,
Attorney, Arizona Supreme Court
"Excellent aid in a high-stress environment. Very interesting and helpful. More importantly, it kept my attention. This guy offers quite a few insights that you might not ever think of."
David G. Utley,
Davis & Young
"Excellent instructor and valuable material on working more effectively with clients and lawyers. Filled with thoughtful suggestions that will enhance my legal skill."
Patricia J. O'Donnell,
Baker Hostetler
"Excellent program with helpful insights for improving interactions with clients, co-workers and opposing counsel."
Ken Hoffmeister,
Merchant & Gould