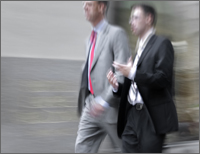 "Excellent aid in a high-stress environment. Very interesting and helpful. More importantly, it kept my attention. This guy offers quite a few insights that you might not ever think of."
David G. Utley,
Davis & Young
"Absolutely fabulous CLE! The Basis of Influence Series is very thoughtful and tackles interpersonal relationships that lawyers encounter. The lessons will greatly affect the practice of law for anyone and these topics are not often approached or discussed."
Jane Harvey,
Attorney
"This CLE has a surprisingly immediate and deep impact on the lawyers who take it. I expect that this will really alter my practice, and that is a first for CLEs."
Lauren Harrison,
Vinson & Elkins
"Practical, sound advice. The best use of my time in a CLE course — ever."
Amy Burgert,
Mayer Brown
"Best CLE I've had. The technology was top notch and the presenter was like talking to a friend or co-worker. This will help me to deal better with my clients in the future."
Jeremy Hays,
Attorney, Myler Disability