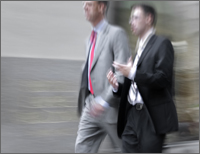 "This class provided tools for dealing with conflict arising from difficult personalities and will help me better navigate such situations and achieve better results for my clients."
David Powers,
Rose Harrison & Gilreath
"A very interesting, insightful presentation. The seminar flew by."
Dan Pinkston,
U.S. Department of Justice
"I found the seminar to provide very useful insights into people's perceptions of each other and important ideas about how to communicate more clearly and effectively. I would recommend the course to anyone."
Angus King ,
Former Governor of Maine
"My experience with client development was limited before this course, though now (as a result of this program) I feel much more prepared to make rain and develop my own book of business."
Eric Ballou,
The Nelson Law Firm
"Fantastic, helpful and insightful ... different from any previous CLE class I have taken."
Michael Schwartz,
Attorney