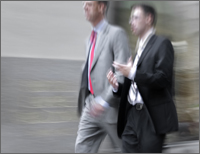 "As a college professor, I am keenly aware that it is just as important in the delivery of information as it is in the content of that which is being delivered. I am pleased to say that The Likeable Lawyer was successful in creating a confluence where the two met with remarkable results."
Sherman Anderson,
Attorney
"This class is so much more interesting than 99% of the CLE's I've ever taken. The tools I've learned apply to many areas of my life. Thank you so much!"
Nancy Martinez,
Law Offices of Nancy Martinez
"Exceeded my expectations with practical tools on the little things that can dramatically improve communication with clients, counsel and colleagues."
Joseph Green,
Baker, Donelson, Bearman, Caldwell & Berkowitz
"The Likeable Lawyer consistently delivers high-quality usable strategies and tactics for handling tough situations. I've taken three of their courses and am never disappointed!"
Thea Janeway,
Attorney
"The course taught practical guidance and helpful reminders on effective lawyering, and did so in a surprisingly interesting and motivational way."
Lynne Lagarde,
Earl, Curley & Lagarde