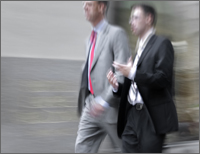 "This was one of the best seminars I have participated in. The information was useful, practical, insightful and empowering. It was definitely more than I had anticipated or expected."
Therese Picard,
Daley & Orton
"Absolutely fabulous CLE! The Basis of Influence Series is very thoughtful and tackles interpersonal relationships that lawyers encounter. The lessons will greatly affect the practice of law for anyone and these topics are not often approached or discussed."
Jane Harvey,
Attorney
"Helpful to manage client relationships - particularly the more challenging relationships."
Sara Popovich,
Fragomen, Del Rey, Bernsen & Loewy
"My experience with client development was limited before this course, though now (as a result of this program) I feel much more prepared to make rain and develop my own book of business."
Eric Ballou,
The Nelson Law Firm
"As with the other courses that I have taken with this CLE provider, I found the information contained in this course to be exceedingly relevant in my current practice areas."
Corey Thompson,
Attorney