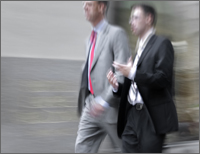 "This course offers very practical and easily implemented tools to improve your influence with others and the quality of your legal practice."
Darrin Jeffries,
Plattner, Schneidman & Schneider
"Very interesting seminars with lots of useful concepts that can be utilized in my everyday dealings with people - both professionally and personally."
Mark Braun,
Baker & Hostetler
"One of the best ethics seminars I have seen in a long time. The examples and scenarios effectively illustrated the points made. Exceeded my expectations. "
Kate Patterson,
Patterson Ehrhardt, PLLC
"The course content and concepts were absolutely excellent! I cannot think of a more helpful course for any lawyer to take. I have practiced law for 38 years and have never attended a course that had more practical, concrete and excellent information for lawyers."
Nina Preston,
Attorney, Arizona Supreme Court
"The content was excellent; different than any other CLE class I have taken and better. It provided extremely helpful training and actionable information that I can actually use in law, business and my personal life."
Robert Alexander Glenn,
Duke Energy