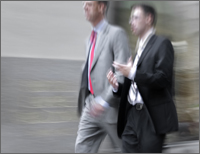 "In a very convenient succinct manner, The Likeable Lawyer conveys critical components of being effective at leadership and persuasion."
Jean Tuffet,
Attorney
"An excellent course for understanding the "customer service" aspect of representing clients--it is not all about case citations, pure knowledge, or experience. It is about earning client trust first and foremost. Highly recommended. "
Jim Franklin,
Schroeder & Griffith
"Best CLE I've had. The technology was top notch and the presenter was like talking to a friend or co-worker. This will help me to deal better with my clients in the future."
Jeremy Hays,
Attorney, Myler Disability
"A very interesting, insightful presentation. The seminar flew by."
Dan Pinkston,
U.S. Department of Justice
"Excellent course. I enjoyed the wide scope of the presentation and the unusual variety of useful information."
Carl Forest,
Patton Boggs