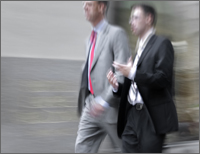 "I found the seminar to provide very useful insights into people's perceptions of each other and important ideas about how to communicate more clearly and effectively. I would recommend the course to anyone."
Angus King ,
Former Governor of Maine
"The content was excellent; different than any other CLE class I have taken and better. It provided extremely helpful training and actionable information that I can actually use in law, business and my personal life."
Robert Alexander Glenn,
Duke Energy
"Another excellent seminar from The Likeable Lawyer. The concepts learned are as important—no, more important—than the latest legislative or appellate update. Very useful and enlightening."
James Johnson,
Lommen, Abdo, Cole, King & Stageberg
"Deceptively good. Better than I anticipated."
Blair Parker,
Parker and Edwards
"A fun and engaging discussion that was very relevant and way better than most CLEs."
Mark Asbill,
Wells Fargo Legel Department