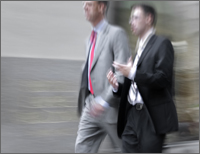 "The content was excellent; different than any other CLE class I have taken and better. It provided extremely helpful training and actionable information that I can actually use in law, business and my personal life."
Robert Alexander Glenn,
Duke Energy
"This class is so much more interesting than 99% of the CLE's I've ever taken. The tools I've learned apply to many areas of my life. Thank you so much!"
Nancy Martinez,
Law Offices of Nancy Martinez
"This was the least "legal" but perhaps the most applicable seminar I have attended in a long time. I loved the interactive element of it."
Chris Graebe,
Graebe Hanna & Sullivan
"Classes like this -- on human interactions -- are as valuable as any substantive CLE we might take. Interacting with people is fundamental to what we do. The legal profession needs more of this type of teaching. The program is very well curated, and Brian does an excellent job."
Michael Hamilton,
DLA Piper LLP
"My experience with client development was limited before this course, though now (as a result of this program) I feel much more prepared to make rain and develop my own book of business."
Eric Ballou,
The Nelson Law Firm