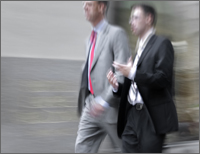 "The class was very enjoyable. It contains real life insight into how to effectively deal with everyone I deal with in the practice of law."
Deborah Truitt,
Truitt and Lyons
"This course provides vital techniques for success in the practice of law. I have attended other seminars on these topics, and this was the best."
Karen Douglas,
Corning Incorporated
"This course gives lawyers tools to better balance life and work."
Mark Glasser,
King & Spalding
"This class will be very useful, giving great practical analysis of ways to communicate and persuade, and help move my positions along in all parts of my life, professionally and personally."
Michael Jaskolsky,
Quarles & Brady
"The material was thoughtful, insightful, interesting and the presenter made it relevant and practical. This is knowledge, understanding and insight I will be able to use and apply daily, both professionally and personally. "
Steven Snyder,
Davis, Snyder, Willford & Lehn