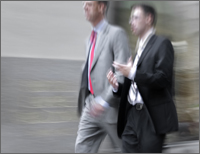 "I found this CLE course to be thought-provoking, beneficial and practical, both as a litigator and as managing partner of my law firm. It far exceeded my expectations."
Melody Hurdle Eagan,
Lightfoot Franklin & White, LLC
"Useful for all lawyers, newly practicing or established."
Alice Carmichael Richey,
Parker Poe Adams & Bernstein
"Exceeded my expectations! Best ethics-related course I've ever taken."
Solomon Hunter,
Pepper Hamilton
"In a very convenient succinct manner, The Likeable Lawyer conveys critical components of being effective at leadership and persuasion."
Jean Tuffet,
Attorney
"The class was a very good reminder of what makes people tick, how to more easily persuade them, and how to be a "likeable lawyer" for those of us for whom that is important."
Ned Menoyo,
Quinn Emanuel Urquhart & Sullivan