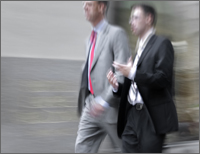 "Thought provoking, entertaining and informative. The instructor made the material come to life."
Gretchen Jacobs,
Arizona Governmental Affairs
"Exceeded my expectations! Best ethics-related course I've ever taken."
Solomon Hunter,
Pepper Hamilton
"I found the seminar to provide very useful insights into people's perceptions of each other and important ideas about how to communicate more clearly and effectively. I would recommend the course to anyone."
Angus King ,
Former Governor of Maine
"Excellent course. Surprisingly relevant to all aspects of my practice and my life."
Tracy Forsythe,
Attorney
"Very good value. Valuable and dynamic material. The course exceeded my expectations."
Mary Bittence,
Baker & Hostetler