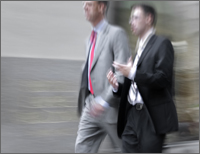 "This seminar is critical for every person who wants to succeed in the practice of law and understand and overcome the challenges inherent with representing clients."
Guy Brown,
Attorney
"Excellent program for all lawyers that offers different methods to improve interactions with clients, opposing counsel and staff. "
Scott Allinson,
Norris, McLaughlin & Marcus
"The class was very enjoyable. It contains real life insight into how to effectively deal with everyone I deal with in the practice of law."
Deborah Truitt,
Truitt and Lyons
"A surprisingly fun and thought-provoking way to get CLE, including the dreaded ethics credits!"
Linda Laarman,
Attorney
"Class content was excellent. Great breakdown of negotiation tactics and related skills."
Steven Brandstedt,
Litchfield Cavo LLP