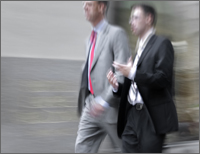 "The class had a lot of practical application and was valuable in that it gave practical pointers about how to best serve our clients. Implementation of this advice would better the reputation of lawyers as a profession. "
Tasha Pepper Dickinson,
Jones, Foster, Johnston & Stubbs
"This was the least "legal" but perhaps the most applicable seminar I have attended in a long time. I loved the interactive element of it."
Chris Graebe,
Graebe Hanna & Sullivan
"Excellent and extremely eye opening. This really is worthwhile!"
Doug Grinnell,
Epsten Grinnell & Howell
"This course provides vital techniques for success in the practice of law. I have attended other seminars on these topics, and this was the best."
Karen Douglas,
Corning Incorporated
"This course is an eye and ear opener. Common pitfalls with clients will be easier to spot and more easily remedied after taking this seminar."
Alexis Johnson,
Attorney