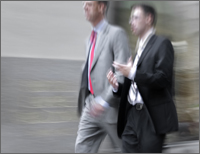 "Very interesting CLE. Extremely relevant, broadly applicable, and great concepts that will change my daily interactions with clients and others."
Jane Huang,
Hogan Lovells
"Best CLE I've had. The technology was top notch and the presenter was like talking to a friend or co-worker. This will help me to deal better with my clients in the future."
Jeremy Hays,
Attorney, Myler Disability
"This course was filled with concrete examples, and teaches important fundamentals for improving lawyer and client relationships."
Michael Russ,
King and Spalding
"This program is terrific, the content outstanding. It provided step-by-step advice about how to create a more successful and rewarding law practice."
Elizabeth Thompson,
Jones Bothwell Dion & Thompson
"The class exceeded my expectations in providing clear tools for any litigator to be more persuasive and effective in negotiating and arguing on behalf of clients."
Randy Canche,
Munsch, Hardt, Kopf & Harr