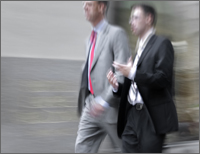 "The content was excellent; different than any other CLE class I have taken and better. It provided extremely helpful training and actionable information that I can actually use in law, business and my personal life."
Robert Alexander Glenn,
Duke Energy
"One of the best—and certainly the most practical—seminars I have taken on negotiation."
Paige Williams,
FedEx Corp. Legal Dept.
"This course was vastly superior in subject matter to any other CLE I've attended. The material is brilliant. Most importantly, it reminded me that there is an art and beauty to our practice."
Caitlin Stewart,
Persels & Associates
"I thought it would be another dry ethics and professionalism course, but it was the most exciting and practical course I have attended."
Richard Crollett,
New Mexico Workers' Compensation Administration
"The course was excellent, insightful and lent itself to immediate application."
Tracee Lewis,
Baker Botts