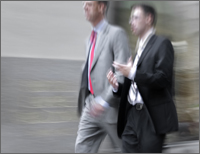 "Fantastic class. Definite eye opener."
Adam Tamas,
Attorney, DST Systems
"Best CLE I've had. The technology was top notch and the presenter was like talking to a friend or co-worker. This will help me to deal better with my clients in the future."
Jeremy Hays,
Attorney, Myler Disability
"This class provided tools for dealing with conflict arising from difficult personalities and will help me better navigate such situations and achieve better results for my clients."
David Powers,
Rose Harrison & Gilreath
"This course provides vital techniques for success in the practice of law. I have attended other seminars on these topics, and this was the best."
Karen Douglas,
Corning Incorporated
"The instruction was outstanding, giving insight into the components and importance of effective communication and influence."
Mike Chibaya,
McGuire Woods