CLE Seminars in All Formats
All webinar / teleconference times are displayed in Central Standard Time unless otherwise noted.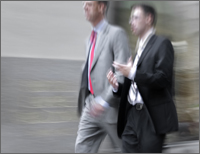 "Fantastic class. Definite eye opener."
Adam Tamas,
Attorney, DST Systems
"This course gives a thoughtful and well-grounded analysis of persuasion theory. Very insightful."
Lee Mickus,
Taylor Anderson LLP
"This program discusses ethos, pathos and logos not only in building professional relationships generally, but also makes it relevant to each participant's individual situation. The webinar is interactive and entertaining which is sometimes rare for a program with a basis in ethics. Highly recommended."
Amanda Owens,
White & Allen
"Engaging and articulate facilitator, clear and well organized presentation, great content. "
James Ficaro,
The Weiser Law Firm
"I found this CLE course to be thought-provoking, beneficial and practical, both as a litigator and as managing partner of my law firm. It far exceeded my expectations."
Melody Hurdle Eagan,
Lightfoot Franklin & White, LLC