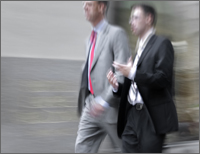 "One of the best—and certainly the most practical—seminars I have taken on negotiation."
Paige Williams,
FedEx Corp. Legal Dept.
"This course hit the spot!"
Brenda Dominguez,
Arizona Supreme Court
"Very interesting seminars with lots of useful concepts that can be utilized in my everyday dealings with people - both professionally and personally."
Mark Braun,
Baker & Hostetler
"The Likeable Lawyer's programs are dynamic and valuable, focusing you on the essence of how to achieve your professional goals."
Robert Converse,
Fulbright & Jaworski
"The program content is suited well for lawyers no matter what area of practice. Both in handling client relationships and adversary relationships with other lawyers. It is a good value. "
James P. Burnett,
Lutz, Burnett, McDermott, Jahn & King