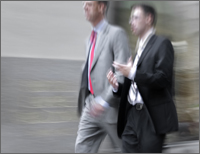 "This was one of the best CLEs I have ever attended in 20+ years of practice. The substantive content was meaningful and can be applied immediately to both legal and personal interactions. A refreshing change from the "norm" of presenters reading their PowerPoint slides."
Lois Eisenstein,
Attorney, University of Arizona
"The class was well-written and presented, and a good use of my time. The communication and persuasion "basics" were a timely reminder that almost any lawyer could use."
Jill Livingston,
Attorney, McDonald's Corporation
"Inspirational on high levels, both practical and down to earth. Every lawyer (as well as their family members, co-workers, bosses and subordinates) would benefit from this course. "
Charlene Li,
Attorney
"This course demonstrates the importance of pathos in persuasion with realistic examples of how communication and negotiation can go awry, and how it can be righted."
Christine Dehney,
Attorney
"Very informative and effective seminar! One of my favorites!"
Mary Ellen Spiece,
Wilkes & McHugh