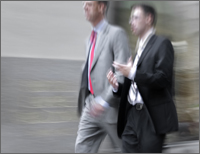 "The Trusted Lawyer is helpful to any lawyer who wants to build trust with clients, colleagues and opposing counsel."
Bryan Tyson,
Marcellino & Tyson, PLLC
"Insightful, engaging and provocative. Brian is very knowledgable and an excellent speaker."
Claire Miller,
Alcoa
"Very informative, entertaining, and useful for attorneys in all practice areas, not just litigators."
Allison Turnbull,
Baker Hostetler
"Excellent aid in a high-stress environment. Very interesting and helpful. More importantly, it kept my attention. This guy offers quite a few insights that you might not ever think of."
David G. Utley,
Davis & Young
"My experience with client development was limited before this course, though now (as a result of this program) I feel much more prepared to make rain and develop my own book of business."
Eric Ballou,
The Nelson Law Firm