CLE Seminars in All Formats
All webinar / teleconference times are displayed in Central Standard Time unless otherwise noted.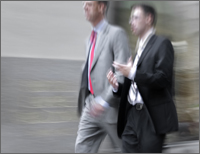 "Fantastic class. Definite eye opener."
Adam Tamas,
Attorney, DST Systems
"The course was excellent, insightful and lent itself to immediate application."
Tracee Lewis,
Baker Botts
"One of the best classes I have attended. It was very thought-provoking with real-world scenarios and important human/emotional insights which will be useful in dealing with clients."
Henry Koltys,
Mediation for Resolution
"If I were king of the world, courses like this would be mandatory. This course will help to make me not just a better lawyer, but a more effective communicator with family, friends and others."
Eric Rathburn,
Attorney
"This course provides vital techniques for success in the practice of law. I have attended other seminars on these topics, and this was the best."
Karen Douglas,
Corning Incorporated