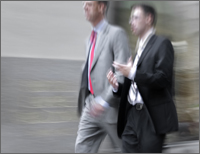 "Helpful to manage client relationships - particularly the more challenging relationships."
Sara Popovich,
Fragomen, Del Rey, Bernsen & Loewy
"One of the best—and certainly the most practical—seminars I have taken on negotiation."
Paige Williams,
FedEx Corp. Legal Dept.
"Interesting and unique content. This course addressed topics that lawyers need to address, how we perceive and are perceived by others. Refreshing and informative!"
Lucia McLaren,
Johnson Becker, PLLC
"The best, most concise and meat-filled client development presentation for lawyers I've been to in my 30 years as a lawyer!"
Sandra Carr,
Attorney
"This is one of the most informative and engaging CLE classes I've taken. I wish I had taken it years ago."
James E. Fearn,
Seattle Housing Authority