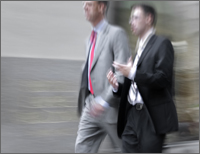 "One of the best MCLE classes I've ever taken because it has such broad application. It's not just for interacting with clients but with all human beings, and we could all use a primer or refresher on that! As I sat in class I thought to myself: This should be taught in law school. "
Kristin Matsuda,
Attorney
"Very interesting seminars with lots of useful concepts that can be utilized in my everyday dealings with people - both professionally and personally."
Mark Braun,
Baker & Hostetler
"Excellent course. Surprisingly relevant to all aspects of my practice and my life."
Tracy Forsythe,
Attorney
"This course was vastly superior in subject matter to any other CLE I've attended. The material is brilliant. Most importantly, it reminded me that there is an art and beauty to our practice."
Caitlin Stewart,
Persels & Associates
"Thought provoking, entertaining and informative. The instructor made the material come to life."
Gretchen Jacobs,
Arizona Governmental Affairs