CLE Seminars in All Formats
All webinar / teleconference times are displayed in Central Standard Time unless otherwise noted.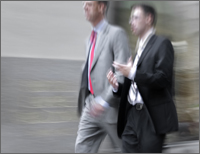 "Fantastic class. Definite eye opener."
Adam Tamas,
Attorney, DST Systems
"I wish all of my CLE classes were this enjoyable and meaningful; which would make getting my 12 hours a year something to look forward to rather than dread."
Robert Brent Crews,
Crews Law Firm
"Easily the most interesting CLE I've had in years. I recommend it to anyone in any law field."
David Hanson,
Manley Deas Kochaiski
"I was pleasantly surprised with the depth or probing of human motivations and the promotion of seeking win-win resolutions, a trait that I find sorely missing in the profession."
Mark Baker,
Attorney
"The class had a lot of practical content and challenged me in concrete and believable ways."
John Shenk,
Ervin, Cohen and Jessup