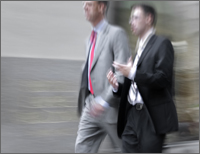 "A surprisingly fun and thought-provoking way to get CLE, including the dreaded ethics credits!"
Linda Laarman,
Attorney
"Excellent aid in a high-stress environment. Very interesting and helpful. More importantly, it kept my attention. This guy offers quite a few insights that you might not ever think of."
David G. Utley,
Davis & Young
"You will negotiate better after taking this course. I liked the seamless relation of Aristotelian principles to the neuroscience of what gets people to agree."
Marie Jordan,
Attorney, JP Morgan Chase
"Very enlightening and useful information that I can't imagine getting in any other course for continuing education. You are so right, this was never covered in law school."
J. Wesley Bailey,
Attorney
"This class is so much more interesting than 99% of the CLE's I've ever taken. The tools I've learned apply to many areas of my life. Thank you so much!"
Nancy Martinez,
Law Offices of Nancy Martinez