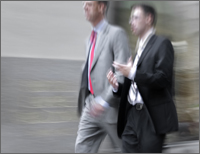 "Amazingly focused and valuable tools for client development."
Brice Tarzwell,
Bracewell & Giuliani LLP
"This class will be very useful, giving great practical analysis of ways to communicate and persuade, and help move my positions along in all parts of my life, professionally and personally."
Michael Jaskolsky,
Quarles & Brady
"This was one of the best CLEs I have ever attended in 20+ years of practice. The substantive content was meaningful and can be applied immediately to both legal and personal interactions. A refreshing change from the "norm" of presenters reading their PowerPoint slides."
Lois Eisenstein,
Attorney, University of Arizona
"Thought provoking, entertaining and informative. The instructor made the material come to life."
Gretchen Jacobs,
Arizona Governmental Affairs
"The Likeable Lawyer's programs are dynamic and valuable, focusing you on the essence of how to achieve your professional goals."
Robert Converse,
Fulbright & Jaworski