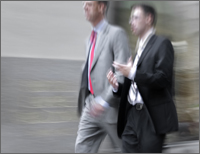 "Excellent examination of the solutions for client satisfaction that are often over-looked during representation."
Ryan Thompson,
Godin & Baity
"The class had a lot of practical content and challenged me in concrete and believable ways."
John Shenk,
Ervin, Cohen and Jessup
"This class will be very useful, giving great practical analysis of ways to communicate and persuade, and help move my positions along in all parts of my life, professionally and personally."
Michael Jaskolsky,
Quarles & Brady
"I was surprised by how interesting and different this class was from typical CLE courses. It was a lot more intellectual and captivating than most."
Amber Kauffman,
Sessoms & Rogers
"Exceeded my expectations! Best ethics-related course I've ever taken."
Solomon Hunter,
Pepper Hamilton