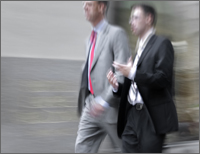 "As a college professor, I am keenly aware that it is just as important in the delivery of information as it is in the content of that which is being delivered. I am pleased to say that The Likeable Lawyer was successful in creating a confluence where the two met with remarkable results."
Sherman Anderson,
Attorney
"Excellent course. I enjoyed the wide scope of the presentation and the unusual variety of useful information."
Carl Forest,
Patton Boggs
"I found the seminar to provide very useful insights into people's perceptions of each other and important ideas about how to communicate more clearly and effectively. I would recommend the course to anyone."
Angus King ,
Former Governor of Maine
"This class provides strategies for dealing with staff, superiors, adversaries and people in general that are workable and memorable, and can help better manage a stressful practice."
Denise Carlon,
Zucker, Goldberg & Ackerman
"I wish all of my CLE classes were this enjoyable and meaningful; which would make getting my 12 hours a year something to look forward to rather than dread."
Robert Brent Crews,
Crews Law Firm