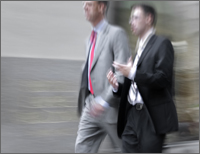 "Engaging and articulate facilitator, clear and well organized presentation, great content. "
James Ficaro,
The Weiser Law Firm
"This was one of the best seminars I have participated in. The information was useful, practical, insightful and empowering. It was definitely more than I had anticipated or expected."
Therese Picard,
Daley & Orton
"Another excellent seminar from The Likeable Lawyer. The concepts learned are as important—no, more important—than the latest legislative or appellate update. Very useful and enlightening."
James Johnson,
Lommen, Abdo, Cole, King & Stageberg
"My experience with client development was limited before this course, though now (as a result of this program) I feel much more prepared to make rain and develop my own book of business."
Eric Ballou,
The Nelson Law Firm
"If I were king of the world, courses like this would be mandatory. This course will help to make me not just a better lawyer, but a more effective communicator with family, friends and others."
Eric Rathburn,
Attorney