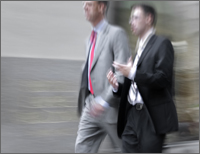 "This program is terrific, the content outstanding. It provided step-by-step advice about how to create a more successful and rewarding law practice."
Elizabeth Thompson,
Jones Bothwell Dion & Thompson
"Likeable Lawyer programs help lawyers lead more fulfilled careers and would benefit every lawyer. The Aristotelian principles covered will help me become a more valuable and influential lawyer. "
John Hammond,
Ice Miller, LLP
"This class provided tools for dealing with conflict arising from difficult personalities and will help me better navigate such situations and achieve better results for my clients."
David Powers,
Rose Harrison & Gilreath
"The course is invaluable. I came wanting to learn how to be a better lawyer and left learning how to be a better person."
Amy Miller,
Waldrep Stewart & Kendrick
"This seminar is critical for every person who wants to succeed in the practice of law and understand and overcome the challenges inherent with representing clients."
Guy Brown,
Attorney