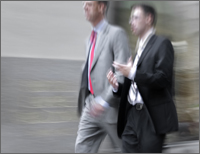 "Very interesting content that made me think about the PROCESS of negotiation in aways I hadn't before. Essential for all attorneys."
Leah W. Sprague,
Attorney
"Very enlightening."
Randi Ordetx,
Attorney, New York Times
"One of the best MCLE classes I've ever taken because it has such broad application. It's not just for interacting with clients but with all human beings, and we could all use a primer or refresher on that! As I sat in class I thought to myself: This should be taught in law school. "
Kristin Matsuda,
Attorney
"The class had a lot of practical application and was valuable in that it gave practical pointers about how to best serve our clients. Implementation of this advice would better the reputation of lawyers as a profession. "
Tasha Pepper Dickinson,
Jones, Foster, Johnston & Stubbs
"Likeable Lawyer seminars are the only CLEs I actually put to use - over and over again. My contract negotiations are much less stressful due to the techniques and knowledge I've gained from The Likeable Lawyer."
Marie Jordan,
JP Morgan Chase