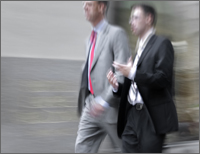 "The instruction was outstanding, giving insight into the components and importance of effective communication and influence."
Mike Chibaya,
McGuire Woods
"The Likeable Lawyer was, without a doubt, the best CLE class I have ever taken. Thank you!"
David Warner,
Casa del Hispano
"This course gave me practical tools I can use to be more effective in my work, and did it in an entertaining way. Like other Likeable Lawyer programs, this was enjoyable, effective, and a convenient way to meet CLE requirements."
Chris Kallaher,
Direct Energy
"This program is terrific, the content outstanding. It provided step-by-step advice about how to create a more successful and rewarding law practice."
Elizabeth Thompson,
Jones Bothwell Dion & Thompson
"I love Likeable Lawyer courses. They have been the most practical CLE I have ever taken."
Thomas Brinsko,
Attorney, BIC Alliance