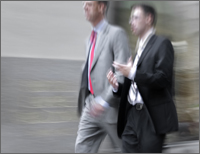 "Great material presented in an easy, straight-forward manner to enhance professional relationships with clients, staff and colleagues."
Robert Piacente,
Fagen, Friedman & Fulprost
"I found this CLE course to be thought-provoking, beneficial and practical, both as a litigator and as managing partner of my law firm. It far exceeded my expectations."
Melody Hurdle Eagan,
Lightfoot Franklin & White, LLC
"This was one of the best seminars I have participated in. The information was useful, practical, insightful and empowering. It was definitely more than I had anticipated or expected."
Therese Picard,
Daley & Orton
"You will negotiate better after taking this course. I liked the seamless relation of Aristotelian principles to the neuroscience of what gets people to agree."
Marie Jordan,
Attorney, JP Morgan Chase
"This was one of the best CLEs I have ever attended in 20+ years of practice. The substantive content was meaningful and can be applied immediately to both legal and personal interactions. A refreshing change from the "norm" of presenters reading their PowerPoint slides."
Lois Eisenstein,
Attorney, University of Arizona