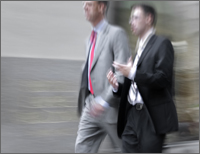 "As a college professor, I am keenly aware that it is just as important in the delivery of information as it is in the content of that which is being delivered. I am pleased to say that The Likeable Lawyer was successful in creating a confluence where the two met with remarkable results."
Sherman Anderson,
Attorney
"One of the best ethics seminars I have seen in a long time. The examples and scenarios effectively illustrated the points made. Exceeded my expectations. "
Kate Patterson,
Patterson Ehrhardt, PLLC
"Fantastic class. Definite eye opener."
Adam Tamas,
Attorney, DST Systems
"Practical, sound advice. The best use of my time in a CLE course — ever."
Amy Burgert,
Mayer Brown
"Excellent program with helpful insights for improving interactions with clients, co-workers and opposing counsel."
Ken Hoffmeister,
Merchant & Gould