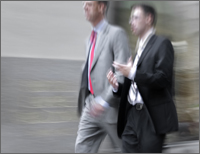 "I enjoy the Likeable Lawyer seminars far more than the typical CLE classes I attend and find the content extremely useful and original."
Stacey Witt Folk,
Attorney
"This class provided tools for dealing with conflict arising from difficult personalities and will help me better navigate such situations and achieve better results for my clients."
David Powers,
Rose Harrison & Gilreath
"Inspirational on high levels, both practical and down to earth. Every lawyer (as well as their family members, co-workers, bosses and subordinates) would benefit from this course. "
Charlene Li,
Attorney
"Excellent program with helpful insights for improving interactions with clients, co-workers and opposing counsel."
Ken Hoffmeister,
Merchant & Gould
"The Likeable Lawyer consistently delivers high-quality usable strategies and tactics for handling tough situations. I've taken three of their courses and am never disappointed!"
Thea Janeway,
Attorney