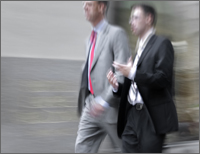 "I found the seminar to provide very useful insights into people's perceptions of each other and important ideas about how to communicate more clearly and effectively. I would recommend the course to anyone."
Angus King ,
Former Governor of Maine
"The most interesting and useful MCLE courses I have ever taken in my 20+ years of taking courses."
Jeremy Katz,
Pinnacle Law Group
"This course hit the spot!"
Brenda Dominguez,
Arizona Supreme Court
"Exceeded my expectations! Best ethics-related course I've ever taken."
Solomon Hunter,
Pepper Hamilton
"Insightful, engaging and provocative. Brian is very knowledgable and an excellent speaker."
Claire Miller,
Alcoa