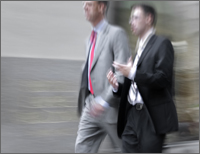 "The program content is suited well for lawyers no matter what area of practice. Both in handling client relationships and adversary relationships with other lawyers. It is a good value. "
James P. Burnett,
Lutz, Burnett, McDermott, Jahn & King
"Excellent course. Surprisingly relevant to all aspects of my practice and my life."
Tracy Forsythe,
Attorney
"Interesting topic for a CLE and passionate presenters. I will benefit from this in all facets of my life, personal as well as professional. "
Jerry Stehlik,
Bucknell Stehlik Sato & Stubner, LLP
"The class content exceeded my expectations and caused me to think about the kind of person I come across as, which is important but not a subject lawyers are usually trained on."
John Lamb, Attorney,
Caterpillar Financial Services
"As with the other courses that I have taken with this CLE provider, I found the information contained in this course to be exceedingly relevant in my current practice areas."
Corey Thompson,
Attorney