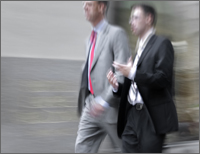 "Inspirational on high levels, both practical and down to earth. Every lawyer (as well as their family members, co-workers, bosses and subordinates) would benefit from this course. "
Charlene Li,
Attorney
"If I were king of the world, courses like this would be mandatory. This course will help to make me not just a better lawyer, but a more effective communicator with family, friends and others."
Eric Rathburn,
Attorney
"The class was well-written and presented, and a good use of my time. The communication and persuasion "basics" were a timely reminder that almost any lawyer could use."
Jill Livingston,
Attorney, McDonald's Corporation
"Class content exceeded my expectations. I signed up merely to check off required professionalism credits, and came away with several practical tips that will be useful in my practice."
Louann Bronstein,
Stites & Harbison
"Excellent aid in a high-stress environment. Very interesting and helpful. More importantly, it kept my attention. This guy offers quite a few insights that you might not ever think of."
David G. Utley,
Davis & Young