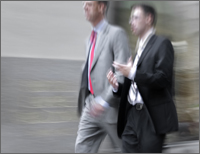 "Content was excellent. I had never taken a webinar class but thought it worked very well."
Holly Wheeler,
U.S. Dept. of the Interior, Office of the Solicitor
"Excellent balance of applicable knowledge with real world examples. A fun way to satisfy CLE requirements from my desktop. The instructor was prepared and easy to follow."
James Hall,
Hall Johnson LLC
"This is one of the most informative and engaging CLE classes I've taken. I wish I had taken it years ago."
James E. Fearn,
Seattle Housing Authority
"The most interesting and useful MCLE courses I have ever taken in my 20+ years of taking courses."
Jeremy Katz,
Pinnacle Law Group
"I really liked the conversational nature of the course and found it to be very engaging, helpful and informative. Much more fun than I have experienced before in a CLE program."
Nicole Stach,
Morgan Lewis