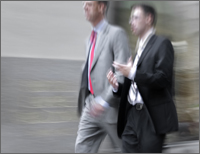 "An excellent course for understanding the "customer service" aspect of representing clients--it is not all about case citations, pure knowledge, or experience. It is about earning client trust first and foremost. Highly recommended. "
Jim Franklin,
Schroeder & Griffith
"Very interesting content that made me think about the PROCESS of negotiation in aways I hadn't before. Essential for all attorneys."
Leah W. Sprague,
Attorney
"Excellent and extremely eye opening. This really is worthwhile!"
Doug Grinnell,
Epsten Grinnell & Howell
"This program is terrific, the content outstanding. It provided step-by-step advice about how to create a more successful and rewarding law practice."
Elizabeth Thompson,
Jones Bothwell Dion & Thompson
"Engaging and articulate facilitator, clear and well organized presentation, great content. "
James Ficaro,
The Weiser Law Firm