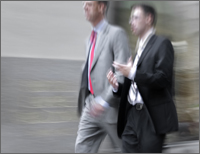 "I enjoy the Likeable Lawyer seminars far more than the typical CLE classes I attend and find the content extremely useful and original."
Stacey Witt Folk,
Attorney
"One of the best—and certainly the most practical—seminars I have taken on negotiation."
Paige Williams,
FedEx Corp. Legal Dept.
"I found the seminar to provide very useful insights into people's perceptions of each other and important ideas about how to communicate more clearly and effectively. I would recommend the course to anyone."
Angus King ,
Former Governor of Maine
"Class content was excellent. Great breakdown of negotiation tactics and related skills."
Steven Brandstedt,
Litchfield Cavo LLP
"This course provides vital techniques for success in the practice of law. I have attended other seminars on these topics, and this was the best."
Karen Douglas,
Corning Incorporated