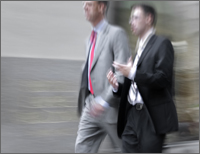 "Very interesting seminars with lots of useful concepts that can be utilized in my everyday dealings with people - both professionally and personally."
Mark Braun,
Baker & Hostetler
"This class addresses issues rarely mentioned but critical to success in practicing law."
Stephen Sutton,
Lathrop & Gage
"Excellent program for all lawyers that offers different methods to improve interactions with clients, opposing counsel and staff. "
Scott Allinson,
Norris, McLaughlin & Marcus
"Excellent instructor and valuable material on working more effectively with clients and lawyers. Filled with thoughtful suggestions that will enhance my legal skill."
Patricia J. O'Donnell,
Baker Hostetler
"I was pleasantly surprised with the depth or probing of human motivations and the promotion of seeking win-win resolutions, a trait that I find sorely missing in the profession."
Mark Baker,
Attorney