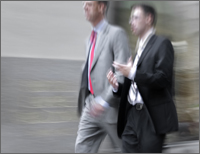 "Excellent course. Surprisingly relevant to all aspects of my practice and my life."
Tracy Forsythe,
Attorney
"Excellent course with clear, engaging explanation of concepts and practical examples of application. "
Nan Braley,
Greenberg Traurig
"One of the best MCLE classes I've ever taken because it has such broad application. It's not just for interacting with clients but with all human beings, and we could all use a primer or refresher on that! As I sat in class I thought to myself: This should be taught in law school. "
Kristin Matsuda,
Attorney
"This was the least "legal" but perhaps the most applicable seminar I have attended in a long time. I loved the interactive element of it."
Chris Graebe,
Graebe Hanna & Sullivan
"The course content and concepts were absolutely excellent! I cannot think of a more helpful course for any lawyer to take. I have practiced law for 38 years and have never attended a course that had more practical, concrete and excellent information for lawyers."
Nina Preston,
Attorney, Arizona Supreme Court