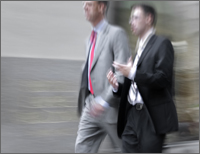 "The best, most concise and meat-filled client development presentation for lawyers I've been to in my 30 years as a lawyer!"
Sandra Carr,
Attorney
"Packed with new information most attorneys have never heard regarding negotiating skills."
Timothy Garflield,
Schwartz, Heidel Sullivan
"Very interesting content that made me think about the PROCESS of negotiation in aways I hadn't before. Essential for all attorneys."
Leah W. Sprague,
Attorney
"Insightful, engaging and provocative. Brian is very knowledgable and an excellent speaker."
Claire Miller,
Alcoa
"The Trusted Lawyer is helpful to any lawyer who wants to build trust with clients, colleagues and opposing counsel."
Bryan Tyson,
Marcellino & Tyson, PLLC