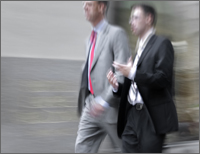 "It is hard to come up with something fresh in a negotiation course. This one offers several gems."
J. Stanton Curry,
Gallagher & Kennedy
"Best CLE I've had. The technology was top notch and the presenter was like talking to a friend or co-worker. This will help me to deal better with my clients in the future."
Jeremy Hays,
Attorney, Myler Disability
"This is one of the most informative and engaging CLE classes I've taken. I wish I had taken it years ago."
James E. Fearn,
Seattle Housing Authority
"Extremely practical how-to course filled with useful negotiation tools. Provides insight into diagnosing the needs of your negotiation opponent that will allow you to increase the chances of obtaining successful outcomes."
Shawn Doorhy,
Faegre Baker Daniels LLP
"This was the least "legal" but perhaps the most applicable seminar I have attended in a long time. I loved the interactive element of it."
Chris Graebe,
Graebe Hanna & Sullivan